GMCR to Raise Prices on Old Brewers? Pigs Must Fly in Vermont.
Yesterday, CEO Larry Blanford of GMCR stated: "but should something like that happen we have a number of tactical responses, one of which could in fact be deciding to raise the price of the K-Cup brewing system. We have it priced right now to continue to drive adoption. At some point one could say we want to now really, really drive the Vue-Cup system more aggressively, so let's continue to sell K-Cup brewers, but let's raise the price"
I find this very amusing, considering that the Vue brewer, their  "Premium", "Next Generation" model, is selling on eBay for $185 (tax & shipping included, with receipt), or less. It's already available at Walmart as well…Walmart apparently is the William Sonoma of 2012.
I find it it even more amusing, considering they quietly lowered their Vue-specific capex guidance by 35% for the full year in Q2.
So much for facts.
Maybe Americans would prefer buying great products, at good prices,such as the Technivorm MoccaMaster http://www.amazon.com/Technivorm-Moccamaster-Coffee-Brewer-Thermo/dp/B002S4DI2S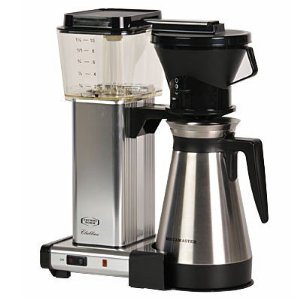 rather than mediocre products, like keurig brewers, that break within 1-2 years, for premium prices? Drinking k-cup coffee seems like eating dollar menu quality burgers, but paying $10.00 for the 'convenience',  when you can eat kobe beef burgers for $5.00.
Paying $50/pound for 6 month old coffee, served in possibly carcinogenic plastic = Value proposition. Right…
"What deflation is not is a drop in prices caused by a technology-enhanced decline in the costs of production. That's called progress" - From a speech by James Grant to the New York Federal Reserve Bank, March 12: