Is Radioshack a (Perma) Value Trap or Will Buyout Rumors Save the Stock?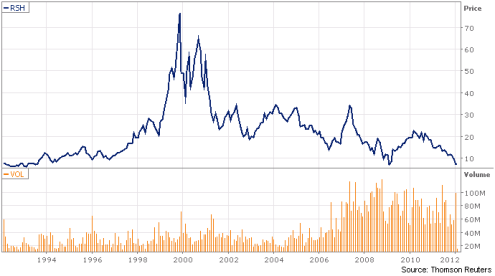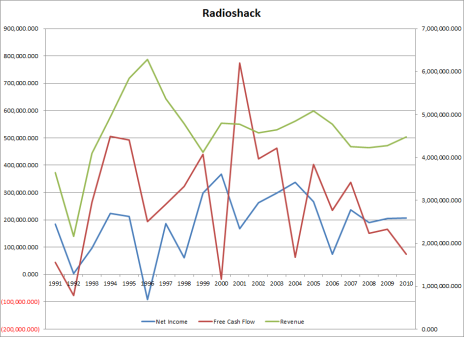 In afterhours on Monday, January 30th, Radioshack (RSH) announced a profit warning, sending the stock lower in after hours as well as in the pre-market the following morning. Since then, the stock has been trading at levels not seen since March 2009; in fact, the lowest closing price it traded in March 2009 was $6.70/shares. RSH traded at $7.29/share as of today's market close. So why did the market react the way it did? Is it an overreaction, and a great buying opportunity, or is this profit warning, and subsequent market reaction, a preview of what's to come?
First, the Bad News:
(1) Q4 Earnings to Disappoint Relative to Expectations & Prior Year's Q4 Earnings - Diluted earnings per share for the 2011 fourth quarter are expected to be in the range of $0.11 to $0.13, compared to $0.51 per diluted share reported in the 2010 and analyst expectations of $0.37 for quarter, according to I/B/E/S Estimates. So RSH profit warning came out 1/3rd expectations!
(2) Lower Gross Margins - Gross margins is expected to be approximately 35%, compared to 41% in the 2010 fourth quarter. Makes you wonder what's going in. RSH claims, "The decrease reflects a shift in mix within mobility sales towards certain lower margin smartphones and mobile devices; a higher percentage of mobility sales in the overall revenue mix, largely driven by the Company's expansion of Target mobile centers; and the impact of a more promotional holiday season."
(3) Blame it on Sprint? - The Company's results for the fourth quarter are due in large part to the underperformance of the Sprint postpaid wireless business and reflect further unanticipated changes in Sprint's customer and credit models. These changes resulted in fewer new and upgrade activations and a decline in Sprint postpaid revenues in the fourth quarter compared to the 2010 fourth quarter and compared to third quarter 2011. In addition, fourth-quarter results reflect a highly promotional holiday season and ongoing pressures on consumer spending.
(4) 2012 Earnings to Be Lower than 2011's - we look for 2012 net income to be down compared to 2011, with very challenging comparisons in the first quarter and sequential quarterly improvement in the remainder of the year."
(5) Inventory Slightly Up - Inventory at Dec. 31, 2011, stood at $744 million compared to $724 million at Dec. 31, 2010.
The Silver Lining (?):
(1) Q4 Sales actually looks OKAY, slightly above estimates - Total net sales and operating revenues from continuing operations for the 2011 fourth quarter increased approximately 6% to $1.39 billion compared to $1.31 billion for the fourth quarter last year. Comparable store sales for company-operated stores increased approximately 2% during the 2011 fourth quarter.
(2) Cash balance up year over year - RadioShack ended the fourth quarter of 2011 with a cash balance of approximately $590 million, compared to $569 million at Dec. 31, 2010. Cash is down sequentially, but there may be a seasonal explanation (needs to be better understood).
(3) No more Buybacks..but Dividends Paid Quarterly Starting 2012 - RSH changed the annual dividend payout to a quarterly payout beginning in the first quarter of 2012.
Note: RadioShack expects to report final, audited 2011 fourth-quarter and full-year financial results on Feb. 21, 2012, before the open of trading on the New York Stock Exchange.
MY TAKE: I'm not in a rush to make a decision on the stock, until the 10Q comes out and management has a chance to give more color into the disappointing quarter and outlook. I don't sense that longs have capitulated… a higher div yield and/or bigger discount to tangible book value would suggest to me that they have, which then would look interesting to me.
Full disclosure, I went long RSH in December, in the mid $9s, and sold in early January just under $10/share. I dodged a bullet. I currently have no stake. Here is my take as
(1) Valuation: Looks cheap, but not stupid cheap - Shares looks cheap on a price/tangible book basis, as it trades just shy of tangible book (9/30's). However, if the earnings for Q4 is a proxy for Q1 earnings, my fear is the following: Full year 2011 EPS looks like will be around $0.70/share, which puts valuation at around 10x P/E . That seems reasonably cheap, but given the negative language for Q1 2012, it's reasonable to wonder if RSH can't go any lower. After all, if Q1 eps were to suck badly, and the rest of year were still improve 'sequentially', we could still end up with a low 2012 eps. What if 2012 eps came out to around $0.50/share? That would seem not cheap.
Having said all this, one wonders if 6.86% dividend yield adequately compensates for these risks, or at least attracts a bid, preventing a panic capitulation. There are some REITs, such as CLI, that have comparable, yet arguably contractually 'safer' dividends than RSH. I wonder if buyers will, as a result, require higher yield as compensation. I, for one, would initiate a decent sized long position, if the yield was around 10%. One complicating factor: Ben Bernanke.
I don't see immediate liquidity/solvency risk, which may be a reason, coupled with a decent dividend yield, the stock has a bid. Also, my guess is the market perceives its risk of obsolescence to be lower than, say, a Research in Motion
(2) Do the quarter, and full year's numbers validate the bears' thesis, that this is a (slowly) dying business, that may bleed indefinitely - John Hempton over at Bronte Capital wrote a decent post "The Forthcoming Irrelevance of the Australian Electronics Retailer" http://brontecapital.blogspot.com/2011/12/forthcoming-irrelevance-of-australian.html He makes a reasonable case that many of these consumer electronics related retailers are doomed for long-term, albeit possibly slow/stretched, bleed to death.
(3) The Amazon + Mobile Provider Retailer Threat - One wonders why a consumer would purchase a cellphone, or even electronic accessories, if amazon can offer a lower price? Why not walk into Radioshack, look around, and then order from elsewhere? I guess one could ask why payday lenders, overpriced convenience stores, etc.  exist as well. Without understanding the current, and prospective RSH consumer behavior, it seems precarious to short the stock at these levels, or to go concentrated long as an 'investment'.
UPSIDE (albeit improbable) SURPRISES:
(1) The oft-ridiculed Buyout Rumors…come true - Even as Radioshack has been the butt of all jokes, and rumors, of PE/MSFT, etc buyout rumors, what if it actually were to be considered?
(2) The Ron Johnson effect - A low probability (as perceived by most of us), but high impact event would be if some Ron Johnson type figure were to enter the scene. I speculate that the hype alone could get the stock up 30-50% from current levels…on the hope of a 'renaissance in brick n mortar retail'
(3) Ability to Survive/Adapt May in Itself Provide upside surprise…eventually - You have to admit, Radioshack has actually survived through the times, even as various electronic gadgets have gone extinct; without an immediate catalyst for death, the optionality of survival may in itself provide surprise.